I work with both male and female military veterans as a psychologist at a large urban healthcare system with the U.S. Department of Veterans Affairs (VA). Women are the fastest growing segment of the U.S. Military, as they represent 14.5% of the U.S. active duty force. This change in demographics represents an increase in the diversity of the military, and brings both challenges and positive changes. VA has instituted various programs to better serve the needs of female veterans, both for medical and mental health care. These programs are numerous, and include: a pilot program to offer childcare services, a call center for women veterans, expanding women's health research (including those on gender disparities in healthcare outcomes), raising awareness of heart disease and breast cancer in women veterans, and extending healthcare benefits to newborns when the mother was receiving maternity care in VA.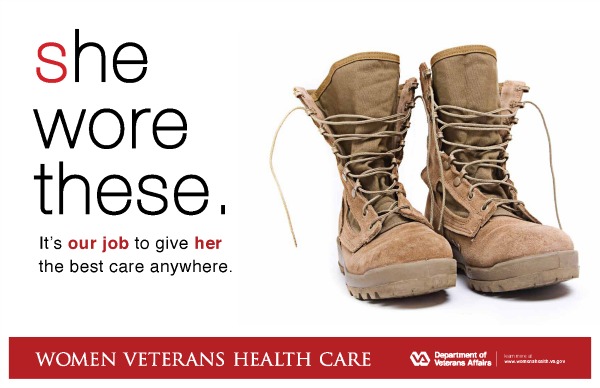 Another initiative is to increase awareness of the presence of women serving in all branches of the military. This initiative involves a media campaign, and one of the images I found very compelling:
Research shows that women in combat face the expected stress of serving in combat support. But women in the military have some unique struggles: They face varied degrees of feeling accepted in their unit, and for many women, military sexual trauma is a highly traumatic experience. Women also identify separation from family as another highly stressful aspect of deployment.
When I reflected on family separation, I immediately thought of a book by Navy psychologist Dr. Heidi Squier Kraft, entitled "Rule Number Two" published in 2007. Dr. Kraft was the mother of 15 month old twins when she deployed to Iraq to provide psychological services, attached to a Marine Corps Surgical Company. The book title references that if Rule Number One is that the young die in war, then Rule Number Two is that doctors can't change Rule Number One.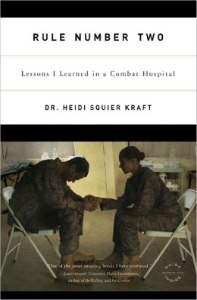 While reading her remarkable book, I was struck by the difficulties inherent in providing psychological support to injured Marines, and stress management for the Navy medical staff caring for casualties, while also herself serving in a theater of war. She also writes about how she and her husband (also in the military) planned for her leave and adjusted to new family roles while she was away. At the very end of the book, she writes of the moment she'd been waiting for so long, reuniting with her husband and two toddler age twins. The twins had not seen their mom for 7 months, and were not yet 2 years old when she returned, so they naturally would need time to get used to her again. The picture accompanying the text shows Dr. Kraft holding a bouquet of flowers while her twins cling tightly to the dad; she would have to wait a bit longer for some long anticipated hugs. To me this bittersweet photo subtly captures the sacrifice of military families.
The Veteran's Administration (VA) and other U.S. Government agencies have increased efforts to educate families and professional staff about the effect of deployment on the entire family through providing various educational materials that are geared for both adults and children of different age levels. The VA has also increased family education and counseling, and made this one of their priorities. Additionally, First Lady Michelle Obama has made support for military families one of her main priorities. It is fair to state that these improvements have been driven at least in part driven by an increasingly diverse military population. Yet there is definitely more that can be done.
My question to you:
What are your thoughts about ways in which
we can support our military families in our newly diversified military?
Join the conversation by adding your comments below*. I'd love your input.
*Note: You will need to register for an Institutional Diversity Blog account in order to comment, but you can get started right away by clicking here, or visiting our FAQ page for more help. Also, check out this video on "Registering for an Account on The Institutional Diversity Blog".