Ryerson University's Division of Equity, Diversity and Inclusion & Media Action Media present Represent. at Ryerson: International Women's Day 2013. A series of events that are designed to initiate ongoing discussions about gender equity and representations of women in the media. This celebration is intended to be inclusive to all genders, with a focus on making connections between how gender equity is important for everyone.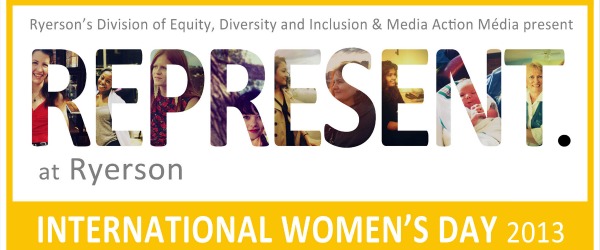 History of International Women's Day
International Women's Day first emerged from the activities of labour movements at the turn of the twentieth century in North America and across Europe.
Since those early years, International Women's Day has assumed a new global dimension for women in developed and developing countries alike. The growing international women's movement, which has been strengthened by four global United Nations women's conferences, has helped make the commemoration a rallying point to build support for women's rights and participation in the political and economic arenas. Increasingly, International Women's Day is a time to reflect on progress made, to call for change and to celebrate acts of courage and determination by ordinary women who have played an extraordinary role in the history of their countries and communities.

Please see the attached flyer for more information and contact the Division of Equity, Diversity and Inclusion if you have any particular accommodation requirements or dietary restrictions. Phone: 416-979-5000 ext. 3243 or Email: equity@ryerson.ca.