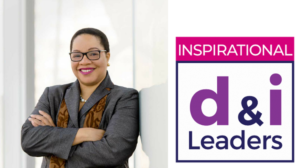 Denise O'Neil Green, vice-president, equity and community inclusion, has been named among the 100 Inspirational D&I Leaders for 2021
I am so proud to be named among the 100 Inspirational D&I leaders for 2021.  I thank my peers for the vote of confidence, as I was one of only two Canadian leaders named on the list.  Others named are from organizations such as Twitter, Google, Apple, Audible, and Brené Brown Education and Research Group.
The list was compiled by d&i Leaders, an organization founded by Mark Baker, located in London, UK.  d&i Leaders (Diversity and Inclusion Leaders) is a global community of senior diversity, inclusion, and HR related professionals, looking to collaborate, network, and accelerate their workplace inclusion strategy.
To find out which diversity and inclusion leader inspired the most, d&I asked 350+ international diversity and inclusion professionals as part of their d&i Leaders Global Benchmarking Survey 2021.  Their website highlights these inspirational individuals that have been nominated by their peers. The list will be updated annually and offers a tiny snapshot of some of the many inspiring people working to accelerate workplace inclusion across the globe.  Those on this year's list are from the United Kingdom, Turkey, USA, Canada, Ireland, Netherlands, Australia, Berlin, Switzerland, and Belgium.