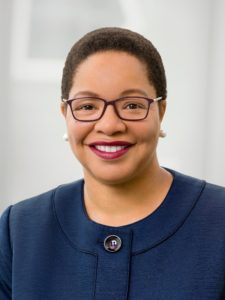 Dr. Denise O'Neil Green, President and Principal Consultant, is an award-winning, visionary and internationally recognized expert in equity, diversity, inclusion (EDI), anti-racism, organizational change and transformational leadership with 30 years of experience. As a global thought leader, she has worked across various sectors, including postsecondary education, government, business, and healthcare, as a keynote speaker, innovative strategist, educator and changemaker.
In March 2022, she launched Denise O'Neil Green Consulting, using her professional and lived experiences to empower EDI leaders and organizations to go beyond the performative and be truly authentic in developing and implementing EDI strategies.
As Vice-President, she founded the Division of Equity and Community Inclusion at Toronto Metropolitan University (2017-2022) and was the inaugural Assistant Vice President/Vice Provost, EDI at TMU (formerly Ryerson) in 2012, the year she immigrated to Canada from the USA. As Vice-President, she led academic and non-academic activities to address anti-racism, anti-discrimination and anti-ableism. Offices that reported to her included Accessibility/AODA, Human Rights Services, Aboriginal Initiatives, and Education, Awareness and Outreach, along with Research, Planning and Assessment.
Known for being courageous and bold, under Dr. Green's leadership, TMU convened the first University and Research Funding Agencies' Equity Officers Roundtable in 2018 in partnership with the Natural Sciences and Engineering Research Council of Canada (NSERC); under her guidance, TMU also brought the first-ever White Privilege Conference Global – Toronto in 2018 with over 600 delegates to discuss how privilege and oppression operate in our Canadian society; she co-authored Ryerson's Truth and Reconciliation Community Consultation Report, which provided the foundation for the institution's strategic plan and reconciliation journey onward; and she led a team that developed an All Gender Washroom campaign ensuring accessibility to everyone on the campus.  With Dr. Green championing major inclusive causes such as these, TMU maintained its designation as one of Canada's Best Diversity Employers for five consecutive years from 2014 to 2019 and made the Forbes' 2022 List for Canada's Best Employers for Diversity.
Before TMU, Dr. Green was the Associate Vice President of Institutional Diversity at Central Michigan University for five years.  During her tenure at CMU, she advanced curricular initiatives, secured over 1.5 million in grant funding for student success programs, and worked with local community organizations, including the Saginaw Chippewa Tribal College, to spearhead diversity equity initiatives. In fall 2011, she opened the Center for Student Inclusion and Diversity, a modern, state-of-the-art facility to showcase EDI initiatives and programming.
Dr. Green has co-authored The Case for Affirmative Action on Campus: Concepts of Equity, Considerations for Practice and 100 Accomplished Black Canadian Women, editions 2016, 2018, 2020 and 2022 (forthcoming). She has authored/co-authored over 90 journal articles, book chapters, reports, conference papers and lectures.  She is also the Creator and Executive Editor of Institutional Diversity Blog, a comprehensive website that covers aspects of EDI to drive culture change. Since its inception in 2012, the blog has reached over 100 countries and has been listed as a leading reference source.
She has received numerous awards and honours, including the inaugural 2022 Women Executive Network MLSE Equity Diversity and Inclusion Leaders Award; the 2022 Honorary Viola Desmond Award from TMU; in 2021 she was named among the Top International 100 Inspirational Diversity and Inclusion Leaders by d&i leaders in the UK. She also received the 2017 Association for the Study of Higher Education Council on Ethnic Participation Founders' Service Award and the 2016 Pioneers for Change Award for Excellence in Women in Leadership.
Dr. Green serves on the Board of Directors for Unity Health Toronto and is an Associate Professor, Graduate Faculty, in the Department of Social Justice Education, OISE (Status-Only Professor), University of Toronto.  She was an Associate Professor in the School of Child and Youth Care in the Faculty of Community Services at TMU, as well as faculty at the University of Illinois, Urbana-Champaign and the University of Nebraska-Lincoln. Her scholarship has focused on race-conscious policies in higher education, student access and qualitative research methodologies and diverse populations.
Dr. Green holds a Ph.D. in higher education and public policy from the School of Education, University of Michigan, Ann Arbor; a Master in Public Affairs from the Princeton School of Public and International Affairs and a Bachelor of Arts in Behavioural Sciences from the University of Chicago.
She's been married 34 years to her spouse, Matthew and has two adult children whom she is very proud of.
Return to the Contributors Page