Last week, I saw the second episode of the CBC mini-series "The Book of Negroes". It made me think about my generation's stories as compared to my children's generation.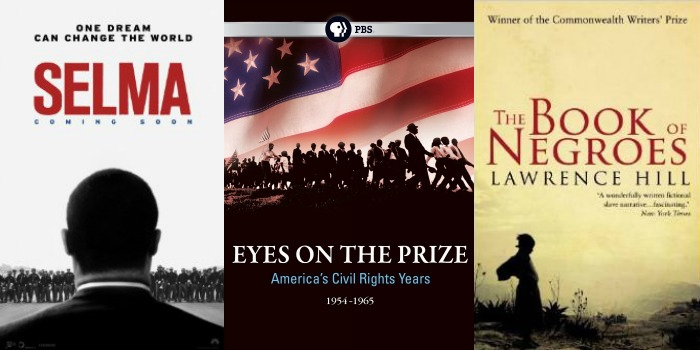 When I was growing up there was only a handful of TV networks and PBS. We had "Roots" and "Eyes on the Prize", which told the story about our history of slavery in America and struggles for civil rights, equal rights, and equal protection under the law. Watching both of these miniseries made a profound impression upon me. Since I didn't get this information in elementary school, high school, or college, I realized that I was innocent and uneducated with respect to my own history, stories, and narratives. At the time, both "Roots" and "Eyes on the Prize" helped me to understand why black people were so far behind in different areas of American life. And even though progress has been made, especially with the election of President Barack Obama in the 21st century, we still have a long, long way to go. Now my children's generation has "Selma", "12 Years A Slave", and "Dear white People". There is also The Book of Negroes, a CBC and BET miniseries based on the book by Lawrence Hill, a biracial Canadian author of American parents (Black father and white mother). While I have not read the book, I learned that even the name of the book was controversial in the United States, and so it was re-titled Someone Knows My Name for distribution in the U.S., Australia, and New Zealand.
According to a 2008 Books Blog post for The Guardian titled "Why I'm not allowed my book title", Hill named the book as such because it's based on a British historical document from the American Revolutionary War. "It documents the 3,000 blacks who had served the King in the war and were fleeing Manhattan for Canada in 1783. Unless you were in 'The Book of Negroes', you couldn't escape to Canada". I look forward to viewing the remaining episodes, even though they are difficult to watch at times.
The pain, anger, hopelessness, and sadness that come with the telling and watching of these stories is hard to take sometimes. However, it's critical to tell our stories. "Selma", a movie about the courageous march from Selma to Montgomery, Alabama, led by Dr. Martin Luther King Jr., reminds us that Ferguson, Trayvon Martin, Michael Brown, Eric Garner, and protests in New York, are all a part of our ongoing narrative and struggle for human rights. But more importantly, "Selma" reminds us that we are not alone in this fight. As each generation finds its voice, we have the opportunity to ultimately realize that ALL #BlackLivesMatter.
Here is my question to you:
What's your story?
I'd love your input, please leave your comments below*.
*Note: You will need to register for an Institutional Diversity Blog account in order to comment, but you can get started right away by clicking here, or visiting our FAQ page for more help. Also, check out this video on "Registering for an Account on The Institutional Diversity Blog".
Below: A video of Selma theme song "Glory" by John Legend and Common: