In Case You Missed It (ICYMI): On Thursday, January 28th and Tuesday, February 23rd, the Ryerson University Soup and Substance Series held the following events:
Freedom of Expression: Power, Privilege, and Perspective – Panelists explored perspectives on freedom of expression and how power and privilege influence who truly has access to this freedom. The discussion explored the unspoken but pervasive rules about what constitutes freedom of speech and who determines when an expression of opinion infringes on another's freedom. The panelists discussed how this access often differs for marginalized groups and how this impacts the Ryerson campus (Watch the video below): https://ryecast.ryerson.ca/80/Watch/10023.aspx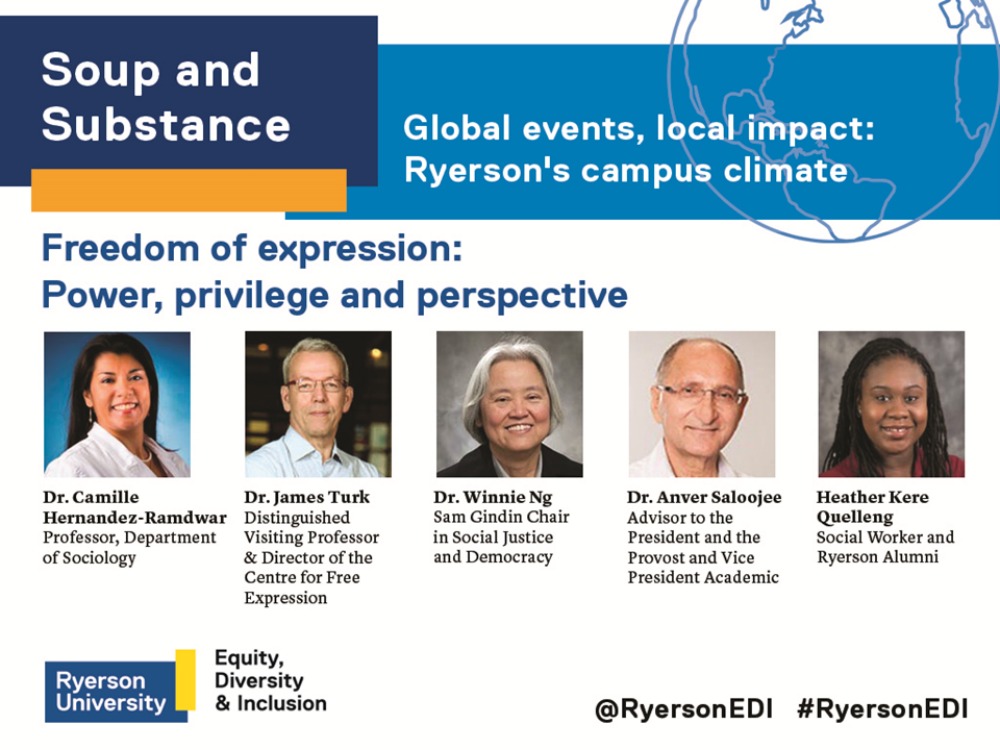 Student Voices: Challenges and Experiences of Campus Climate – Last semester several events occurred on and off campus, both local and global in nature, that impacted Ryerson students in diverse ways. How students experience these events – and subsequently the campus climate – will differ based one's race, gender identity and expression, sexual orientation, religion, ability and more. February 2016's Soup and Substance focused on the different experiences of Ryerson's students. Watch the video below and hear their voices and explore ways to further strengthen our efforts to build a more diverse and inclusive Ryerson University: https://ryecast.ryerson.ca/80/Watch/10075.aspx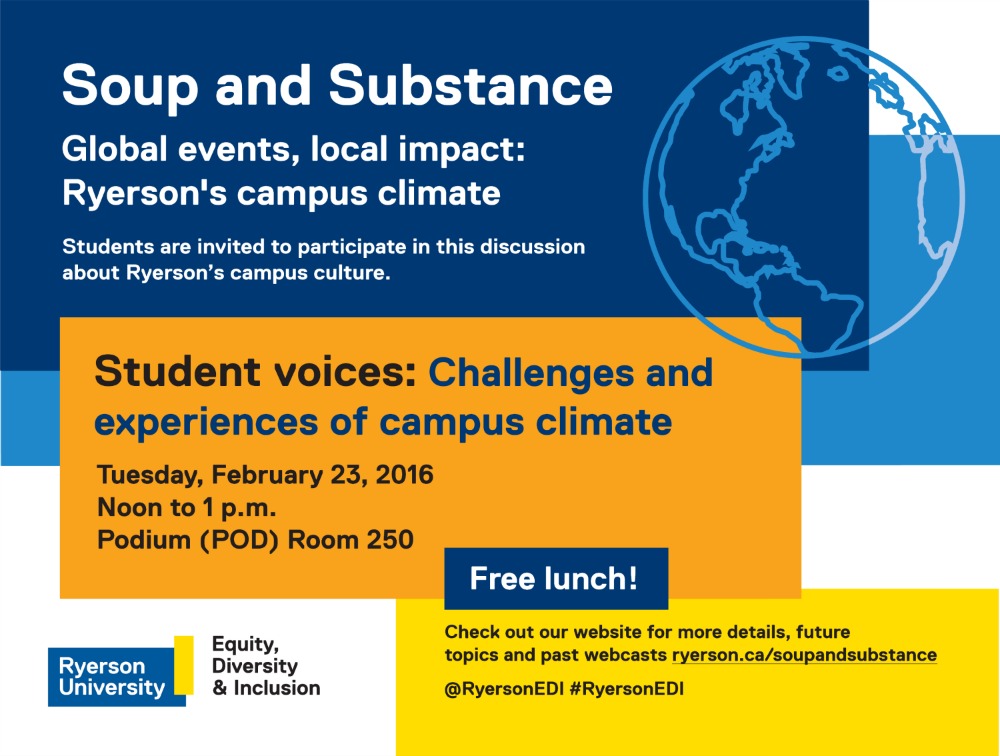 ---
The Division of Equity, Diversity and Inclusion (EDI) at Ryerson University presents the Soup & Substance Series, a series of noon hour moderated panel discussions held at Podium (POD) 250 (unless otherwise noted). While enjoying a warm bowl of soup and refreshments, participants engage panelists in an open conversation on a range of diversity related topics. Dr. Denise O'Neil Green, Assistant Vice President/Vice Provost of Equity, Diversity and Inclusion (EDI), moderates the series, which is free and open to the public.
The Ryerson University's Division of Equity, Diversity and Inclusion is committed to accessibility for Persons with Disabilities. Please contact us 2 weeks in advance of the event if you have any particular accommodation requirements. Also, if you have any dietary restrictions please contact us at 416-979-5000 ext. 3243 or equity@ryerson.ca